Welcome to the Australian Quilters Association Inc
We are a quilting group situated in suburban Melbourne, Victoria, Australia.
Our site has two levels:
PUBLIC – available for everyone.
MEMBERS-ONLY  – available when you join the Guild (login required).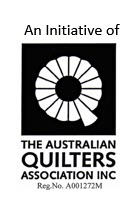 Call for Entries
Australian Quilts in Public Places
AQIPP 2021
Where in the World?
11th November – 18th December 2021
Whitehorse ArtSpace, Box Hill Town Hall, Melbourne
Quilters are invited to demonstrate their talents and originality interpreting the theme 'Where in the World?'. AQIPP is a juried, judged and sponsored exhibition which is open to all quilters in Australia.
Sponsors: Brother International, Clair's Fabrics, GJ's Discount Fabrics, Hillside Quilting, Rhino Glass Beads,  Victorian Textiles.
The theme "Where in the World?" can be interpreted in time, in space, in form and in meaning.
Entries close: 17th September 2021
Download the entry form here:   AQIPP 2021 Entry Form
For more information, email: judybell@bigpond.net.au
Information on this site is presented with the view to be informative and we request that you do not use the information within for any other purpose.