AQIPP (Australian Quilts in Public Places)
AUSTRALIAN QUILTS IN PUBLIC PLACES (AQIPP) is an initiative of AQA designed to enhance public awareness and appreciation of quilting. This is a juried and judged exhibition open to all quilters in Australia. The exhibition provides an opportunity for quilters to create original works, using their talents to interpret a given theme.
AQIPP was first organised in 1997 to showcase uniquely Australian textile talent and gained critical acclaim. 
It has provided an environment for visually exciting and diverse responses to themes such as our landscape, immigration and women's issues and United Nations International Themes .
We now present information about our new exhibition for 2017.
The theme for the 2017 exhibition will be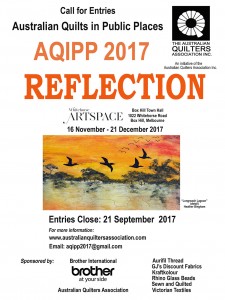 Whether contemplating peaceful reflection in still waters or personally
reflecting on life, change, environment or the world around us,
reflection helps to instil in us a sense of time and place.
The venue will once again be
Whitehorse Art Space
Box Hill Town Hall
1022 Whitehorse Road
Box Hill