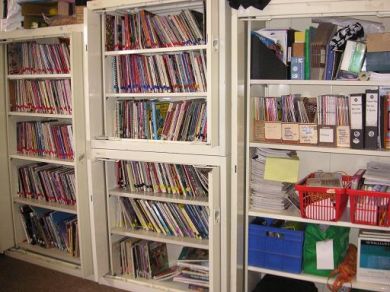 The Australian Quilter's Association owns and runs an extensive and up-to-date library of books, magazines, kits, equipment, CD's and videos. We have over 1600 items to borrow and enjoy.
The Library is open each meeting day (first Monday of each month, allowing for Public holidays) and the hours are from 10.15am to 11.00am, with a break for lunch, then opens again from 12.00pm till 12.30pm when the afternoon session of the meeting starts.
The Library is also open at our Wednesday Night meeting. This is on the third Wednesday of the month, starting at 7.30pm until 8 pm.
The AQA has been fortunate enough to be able to computerise the Library over the past year which has made information more readily available to our members.
You may borrow 6 books and 4 magazines at each meeting, with the understanding that they would be returned at the next session. If you were unable to attend the next meeting you would contact the Librarian, who would make a note of your concerns/needs and change her records accordingly.
We have many magazines – Quilter's Newsletter (USA), Tsushin (Japan), Magic Patchwork (Europe), Piecework, Threads, Textile Fibre Forum, etc. Also there are kits and videos to enjoy.
Occasionally there is a 'sale table' of old/retired/donated books and magazines to browse through and ponder over. When members purchase these books, the funds go back into the Library to purchase more items for the library.
We have wonderful people who purchase for the Library and keep the computer system up to date. Other members are encouraged to 'help out' in the library by packing up and operating the 'borrowing' and 'returns' tables.
Best of all there is the camaraderie and enthusiasm of a group of ladies who come together to share their love of all things patchwork and quilting around the library tables!